BeamWise® – Virtual Optical Bench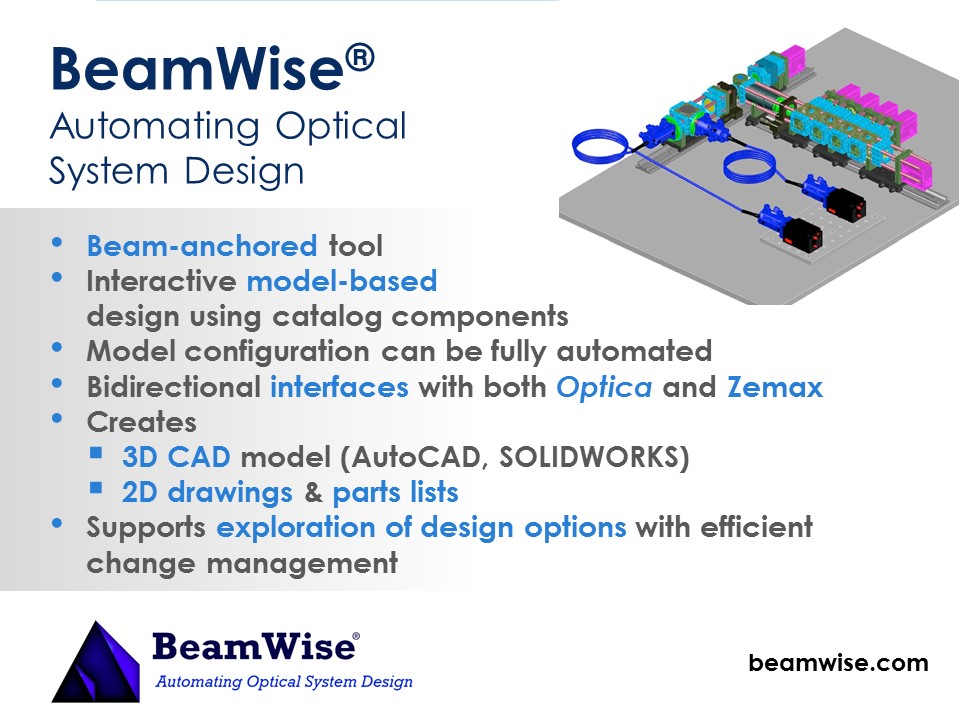 Automating Optical System Design
BeamWise® is a set of software tools and related services for the design of biophotonic and other complex optical systems. BeamWise is implemented using Design++®, a knowledge-based engineering platform that significantly simplifies the capture of in-house engineering expertise and streamlines integration of legacy systems into design automation and product configuration solutions.
Augmenting CAD with Beam Intelligence
BeamWise fills the gap between the optical world and the mechanical world. Current tools, like AutoCAD and SolidWorks, do not have a model for the beam alignment requirements for optical components. BeamWise is a design automation system with design rules and a component library that augments AutoCAD or SolidWorks to guarantee that the alignment is always maintained as design changes are rippled through the beam path.
Cost and Time of Development Cycle
The cost and time of development cycle is a significant problem in optical system design; making sure the development is completed on time and budget while still meeting system specifications. The problem is a result of
Costly prototype iteration
Time consuming design documentation
Poor predictability of instrument performance
BeamWise is developed to address these problems by automating the creation of 3D CAD model and design documentation (drawings and parts list) for optical system design. The underlying Design++ model supports exploration of design options with efficient change management making design iterations instantaneous.
Working with BeamWise
With BeamWise, an instrument developer can intuitively and concisely define an optical system; the software automatically produces a detailed system design, visualizes it in a 3D CAD model, and generates fully annotated and dimensioned 2D drawings and a parts list (bill of materials) for implementation using optomechanical components. Furthermore, BeamWise lets developers immediately review the design, before a sample is created, and any changes they want can be implemented instantly.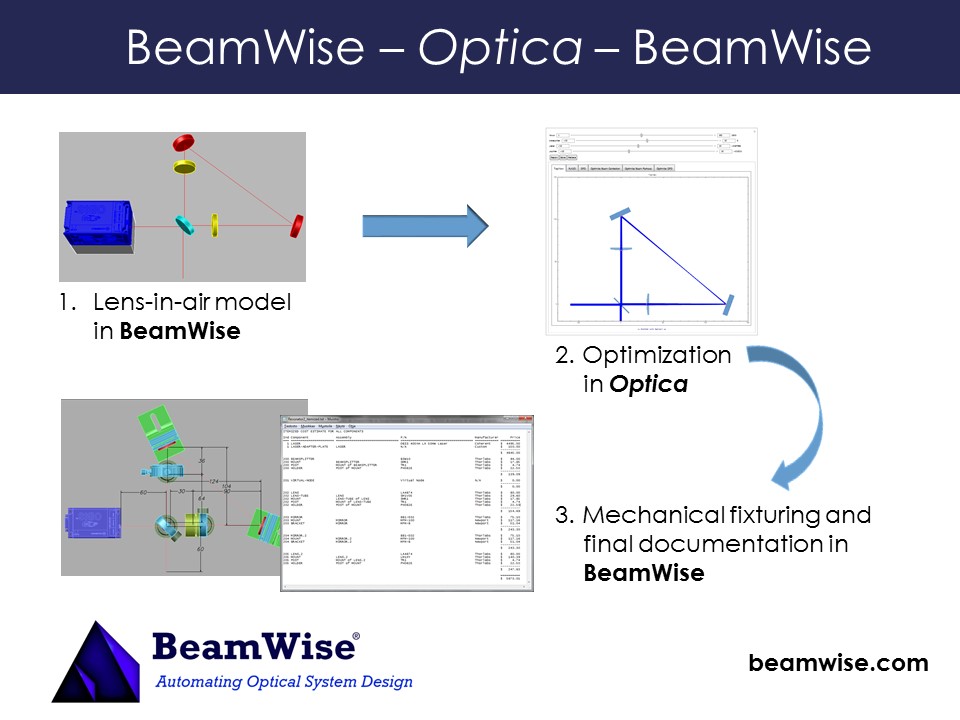 Request a Demo
BeamWise is a plugin that fills the gap between the optical world and the mechanical world.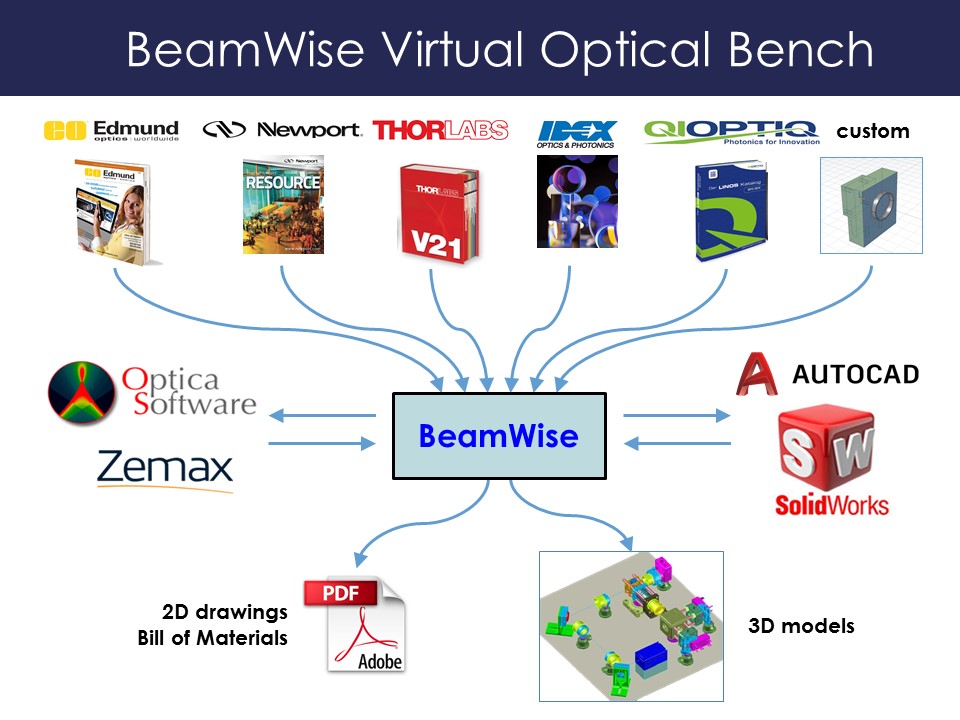 ---
BeamWise as a Service
BeamWise is also offered as a service engagement, which provides an easy, risk-free evaluation of its capabilities.
We start by working together on your optical system design to define input data for BeamWise using your:
Optical simulator results
Functional flow diagram
Optomechanical component data
Next, we will run BeamWise on your input data to automatically generate:
3D CAD model in your favorite CAD format
Fully annotated and dimensioned 2D drawings
Parts list (bill of materials) for implementation
Finally, we will review BeamWise produced results together. Any changes are fed back to BeamWise to update the results instantly.
Testimonials
"It's really useful when you are inventing a new system and want to get the ideas out of your head and onto the bench. It's a sketching tool that provides enough mechanical reality and linkage to simulation to save you time in demonstrating the idea, first to yourself, and then after some refinements, to the team."
SENIOR MANAGER AT A MAJOR DEFENSE CONTRACTOR
"The parent-child relationship is one of the most useful things about BeamWise. The fact that you can stack an assembly together and have a parent-child relationship so that the alignments are already done for you once you start adding the mounts is a huge time saver for us."
MECHANICAL ENGINEER AT A BIOPHOTONIC EQUIPMENT FIRM
"Our goal is to prototype a design idea on a bench first, and we don't want to spend a lot of time trying to get it into a model, just so that we can prototype it. BeamWise helps us get into a prototype early and more efficiently. This is big advantage."
LEAD OPTICAL ENGINEER
Featured In …
---
Latest News